Puncture Repairs
Have you had a tyre puncture in Rockingham, Peron, Shoalwater, Safety Bay, Leda, Cooloongup, Waikiki and Kwinana Beach? Tyrepower Rockingham can help. Your first priority is to find a safe place to remove the punctured tyre and fit the spare, making sure that you're out of the way of any traffic. If you need assistance, give us a call on 08 9527 7722 and we'll do our best to help over the phone.
Your next priority is to get the punctured tyre repaired, or replaced, as soon as possible, especially if your spare tyre is a space saver or speed limited. You can tell if it's a space saver tyre, as they're generally smaller in size than your regular tyres.
Call into Tyrepower Rockingham at 1/17 Enterprise Way, Rockingham and we can give you some options for fixing the puncture if possible, or a replacement tyre. Do you need to repair or replace? Check out the below diagram for a guide.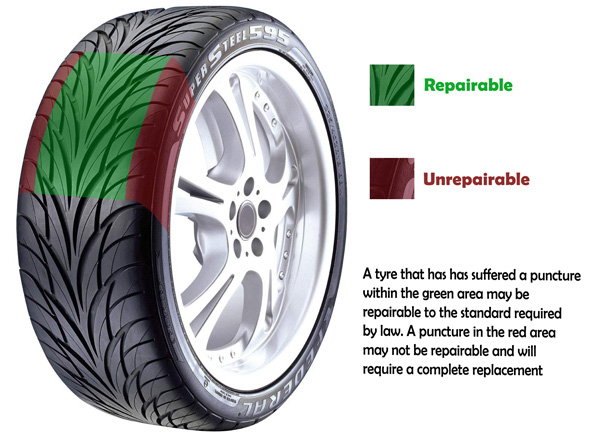 Before you get a puncture, you also want to make sure that your spare tyre is serviceable. It should be correctly inflated and have a minimum 1.6mm of tread. If you would like us to check it for you, don't hesitate to drop by Tyrepower Rockingham for a free tyre check.